Hostellerie du Grünewald
Hostellerie du Grünewald a hidden gem hidden behind a century old facade.  In 2017 Aline Bourscheid & Clovis Degrave revive this century-old Institution and transformed it to an authentic boutique Hotel with a modern twist. Located within old wine yards in the green neighborhood "Grünewald" next to the Luxembourg City Center in proximity of the airport and the Kirchberg Business Center, with convenient free transportation connections.
Moments and more
Hostellerie du Grünewald a combination of modern architecture and an innovative design.
The hotel is made up of 29 rooms in the main building and 7 new rooms in the annex, those last ones are fully equipped and air-conditioned, accessible only by stairs.
The rooms are divided into three categories, small double rooms called "tiny" (13-16m2) "cosy" (16-18m2), superior rooms called "comfort" (20-30m2) and suites (30-40m2).
The establishment has a bistronomic restaurant with bar. The terrace of the restaurant is set in a beautiful landscape and the perfect spot for sunny days, particularly enjoyable for the calm. Sophisticated spaces integrated into the historic complex.
Breakfast
We propose a continental breakfast buffet
From 7:00 am to 10:00 am (week)
From 7:30 am to 10:00 am (week-end)
Rate : 18€/ pers
Opening hours Hôtel
Reception: 7am – 11pm
Check-in: 4pm
Check-out: 11am weekdays, 12am week-end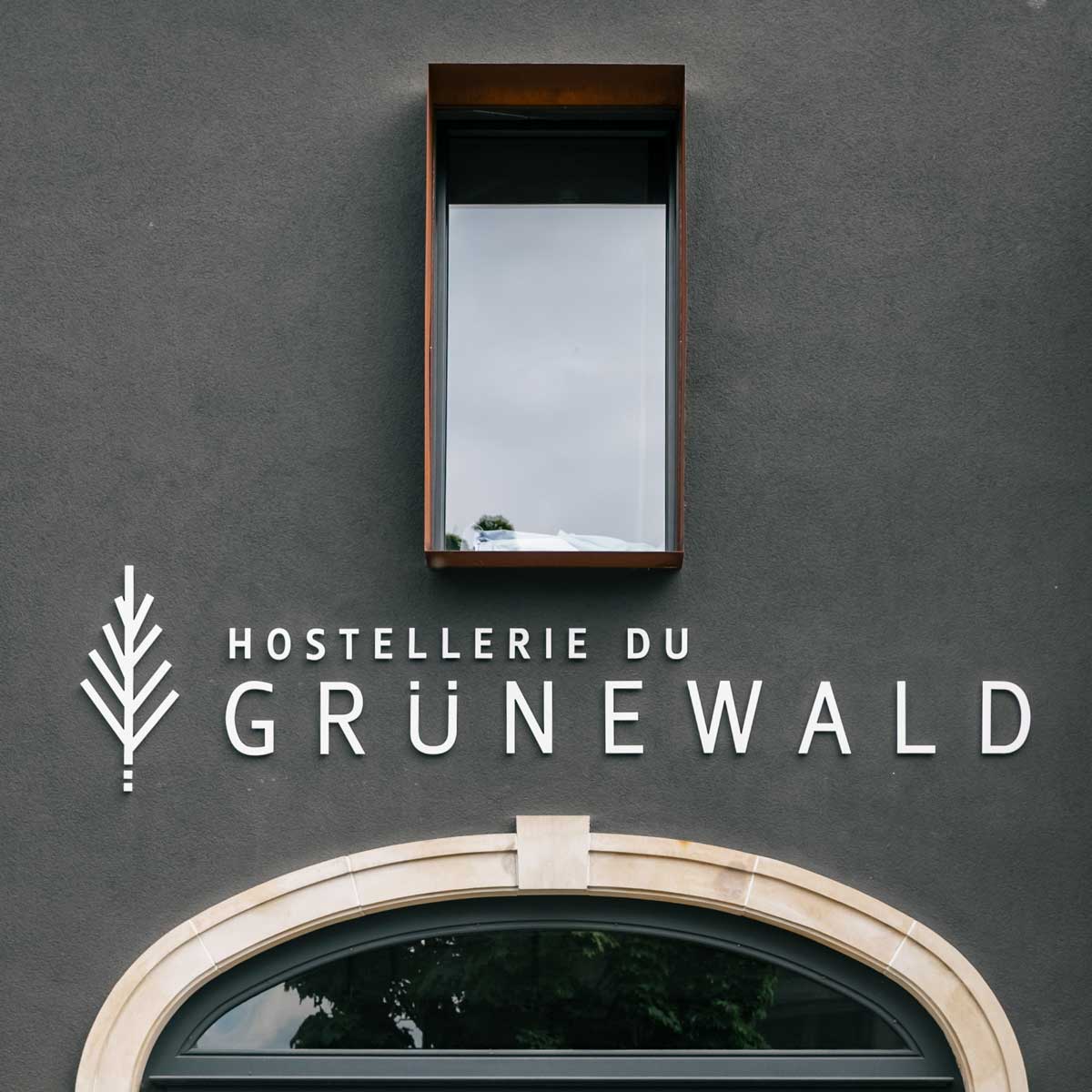 Services
31 rooms and 5 suites ranging from 13 – 40m2 equipped with:

TV

Wifi

Coffee & Tea

Restaurant

Bar

Breakfast

Parking

Pets

Non-smoking

Laundry

Hair dryer &
Codage Welcome products

Iron

1/2 day 20€/ E-bike
1 day 35€/ E-bike
Parking
Free public Parking 100m (train station Dommeldange)